Ref No: 103361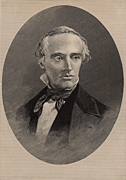 (RM) Image
David Dale Owen (1808-1860) Scottish-born American physician and geologist who set up the US Geological Survey in 1839 when appointed Geologist of the US. He lived at New Harmony, Indiana, the town founded by his father, the social reformer Robert Owen.
Ref No: 104660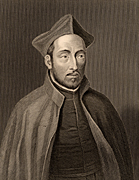 (RM) Image
Ignatius Loyola, born Inigo Lopez de Recalde (1491-1556) Spanish soldier and, with St Francis Xavier (1506-1552) in 1534, one of the founders of the Society of Jesus, the Jesuits. Engraving from 'The Illustrated Globe Encyclopaedia of Universal Knowledge
Ref No: 103318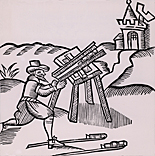 (RM) Image
An Artificer or Pyrotechnist firing a rocket. Woodcut from 'Recreations mathematiques' by Jean Leurechon (Rouen, 1628).
Ref No: 103319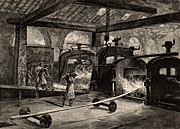 (RM) Image
A battery of rolling mills producing steel rail. Illustration by the British artist William Heysman Overend (1851-1898) Engraving from 'Great Industries of Great Britain' (London, c1880) Engraving.
Ref No: 103330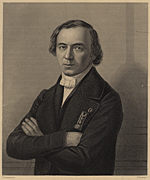 (RM) Image
Jean Baptiste Dumas (1814-1884) French chemist. From James Sheridan Muspratt 'Chemistry' (London, c1860) Engraving.
Ref No: 103316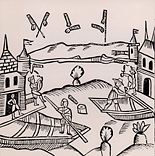 (RM) Image
Pyrotechnist, Artificer or Firework-maker. After a print representing Fire from a series of four representing the elements by the French engraver Abraham Bosse (1602-1676).
Ref No: 103213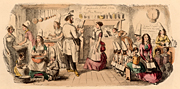 (RM) Image
The Preparatory School for Young Ladies. Practical cookery education for girls. Cartoon by John Leech (1817-1864) English caricaturist. Engraving.
Ref No: 103214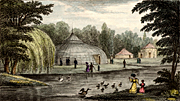 (RM) Image
Surrey Zoological Gardens, Walworth, London, England. Engraving after the drawing by Thomas Hosmer Shepherd. In about 1830 Edward Cross kept his menagerie here, and in 1830 exhibited an Indian rhinoceros for which he paid £800. Conservatory 300 ft in circ
Ref No: 103243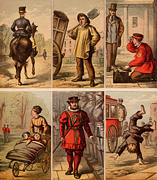 (RM) Image
London street scenes. Groom: Dustman: Bootblack: Nursemaid (eyeing up soldiers): Beefeater: Boy turning somersaults for pennies. Illustrations by Horace William Petherick (1839-1919) for a children's book published London, c1875. Chromolithograph.
Ref No: 103946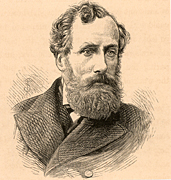 (RM) Image
Andrew Crombie Ramsay (1814-1891) British geologist. Professor of geology at Univeristy College London 1847. President of the Royal Geological Society 1862-1864. From 'Life of Sir Roderick I. Murchison' by Archibald Geikie (London, 1875) Engraving.
Ref No: 103253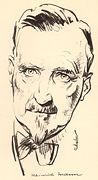 (RM) Image
Heinrich Mann (1871-1950) German novelist. Elder brother of the novelist Thomas Mann. From a sketch dated 1934.
Ref No: 103250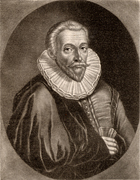 (RM) Image
Jan Gruter (Gruytere, Gruterus) (1560-1627) Belgian-born classical scholar. Held various chairs including at Wittenberg and Heidelberg universities. Mezzotint